Browsing Category: "Celebration"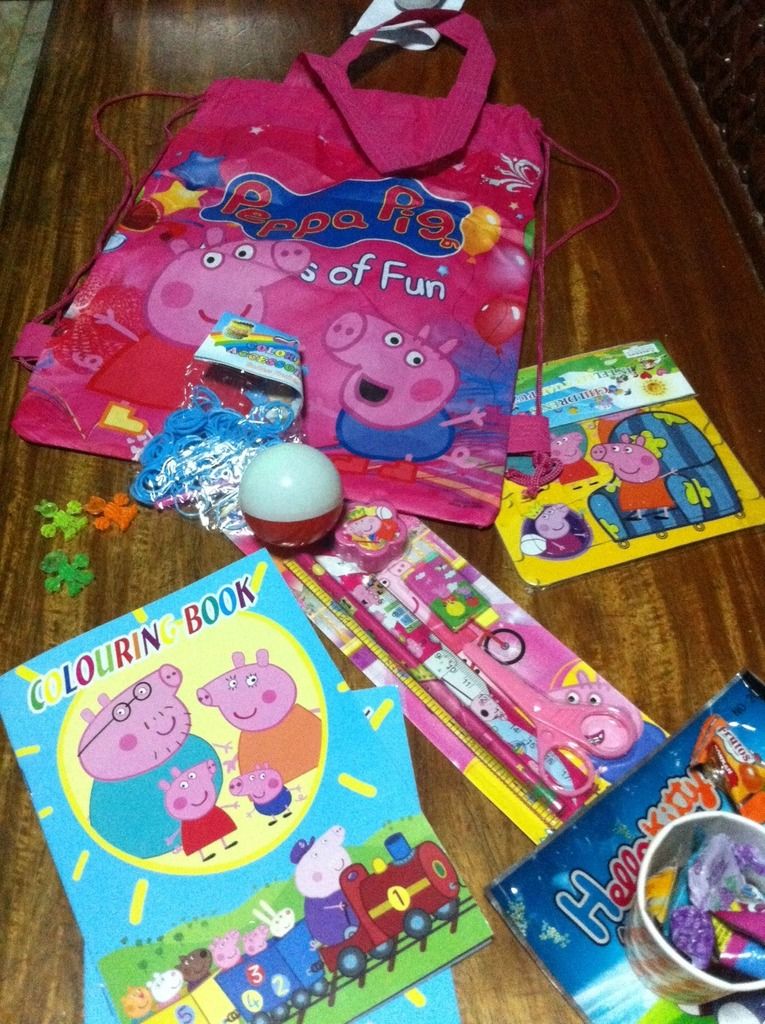 Daughter attended neighbor's birthday party few days ago. The day before the celebration she saw the preparation and happy to know that Peppa Pig was the birthday themed. She likes peppa pig so she didn't think twice and attend the party.  The party held just in front of our abode. She was happy because she took home peppa pig bag with peppa pig goodies. Daughter mentioned that the party was awesome hahah. Well it is because she likes peppa pig that much. Thank you for these peppa pig goodies!
Yesterday we celebrated my daughter's 8th birthday. It wasn't a big celebration and I just prepared simple foods. I only invited my family and some of our neighborhood. She turned 8 on November 10 but because it was school day, I decided to celebrate her birthday on weekend.
Party is not allowed in her current school unlike in her previous school. But teacher allowed my daughter to give something for her classmates. So, I prepared small bag of goodies and my daughter distributed the goodies to all her classmates after school.
Here are some of the photos on her 8th birthday celebration
This is a Red Ribbon chocolate cake
I baked two cupcakes, chocolate and banana top with butter icing. I added sprinkles and marshmallow on top. I'm not a real baker but these cupcakes are eatable, hahah!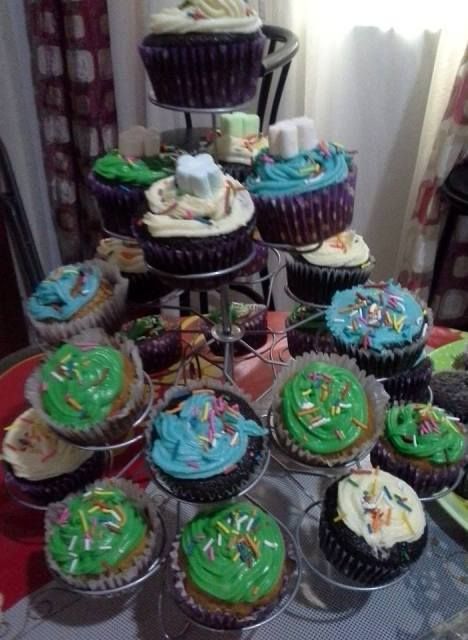 Blowing of the candle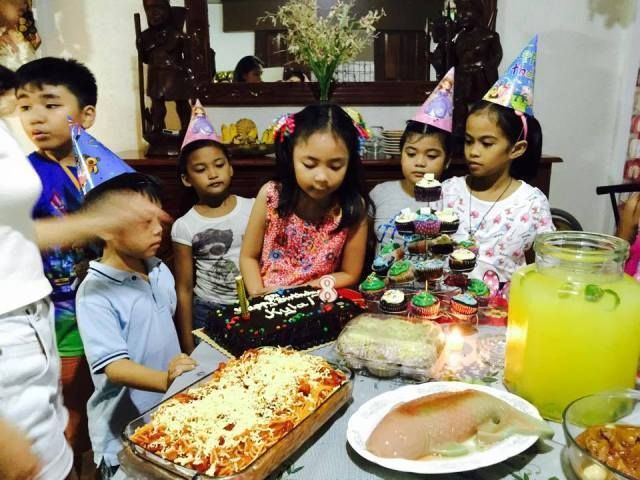 She was happy with her firework birthday candle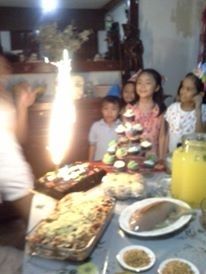 Foods I prepared for her birthday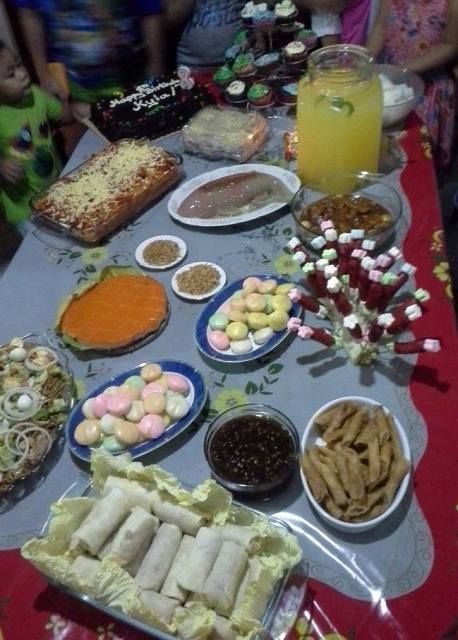 There were no games at all but these kids made their own games and indeed enjoyed.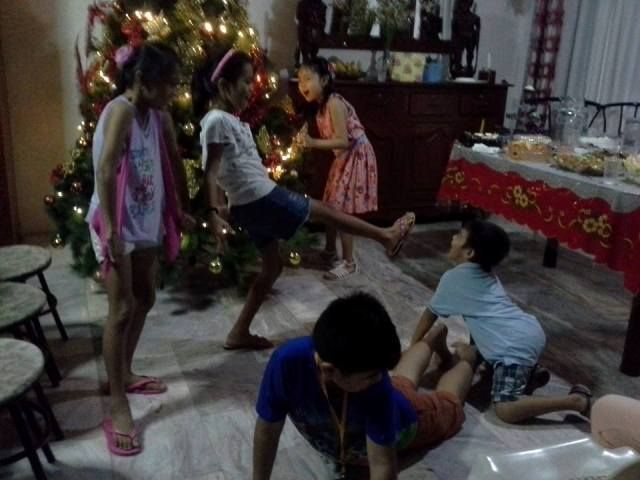 Happy 8th birthday again, Kyla. You are growing so fast. I hope all your prayers each night will all be granted. Good health and enjoy every second of your life.
Last May 1, aside of Labor Day celebration, we also celebrated my sister's birthday. Her birthday was actually April 30. Not yearly my sister celebrates her birthday but this time my nieces asked my sister to celebrate birthday and not just celebrate but doing the celebration in a pool area. Because it's really hot and summer is not yet over. Last minute my sister agreed so we went swimming on May 1 since it's a holiday and everyone was available at this day.
My daughter was very excited and happy because she likes swimming unfortunately not yet a good swimmer. Well, in time for sure she will make it. While enjoying the cold water from the pool, my daughter also enjoyed the scenery. We saw Manny Pacquiao action figure and hurriedly asked her to pose like Pacquiao. Glad to see Pacquiao figure because that time the fight of the century has been a talked in town. Aside from this, we also saw animal figures like camel and giraffe and other big animals. I wonder if these figures were USA made like the guitars I browsed earlier heheh.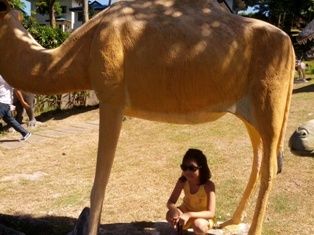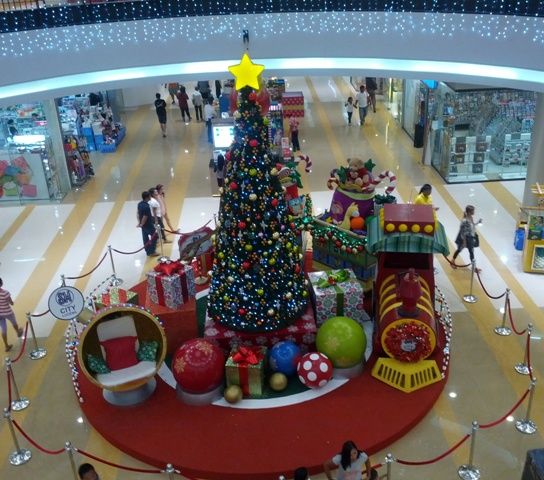 Celebrate Christmas with SM City Lucena. Yearly the mall has Christmas decorations that are pleasing to the eyes of the shoppers. For this year, they have this tall Christmas tree surrounded with huge gifts, a small train and other Christmas stuff.
Five days ago, my daughter attended two birthday celebration on the same day. Good thing different time so daughter  has able to attend both parties. The first one was lunch time and the other one was late in the afternoon.

The first one celebrated 7th birthday. She was my daughter's former classmate when she was in prep. Now, that my daughter transferred in a new school they haven't seen for a long time but I have still communication with the mother of the celebrant. I also invited them when my daughter celebrated 7th birthday.
 When we got home, we went straight to the other party which is just in front of our house. The celebrant celebrated her first birthday. Wow, I just noticed good combination 1st birthday and 7th birthday.
My daughter both enjoyed the party and went home with some goodies.
Time flies, today my daughter is celebrating her special day. It seems it was only yesterday when I gave birth to her. Now, she is already 7 and growing beautifully inside and out. I'm happy to be with her since she was on my tummy and throughout these years. I'm thankful that God gave you to me. Remember that you are the greatest gift that I ever received in my entire life. I already shared some of the highlights of your life when you celebrated your 6th birthday. To my readers, you can read it HERE.
I shared this message to my FB account awhile ago and happy to share here in my blog. "Cheers to my daughter who's celebrating her 7th birthday today. Remember that you are and will always be my ONE and ONLY princess. I wish you all the happiness in the world. As you grow up, I hope that you face life's challenges with strength and maturity. Mama will always be here for you. I love you so much. You are my inspiration and my life."
Happy happy birthday my little princess!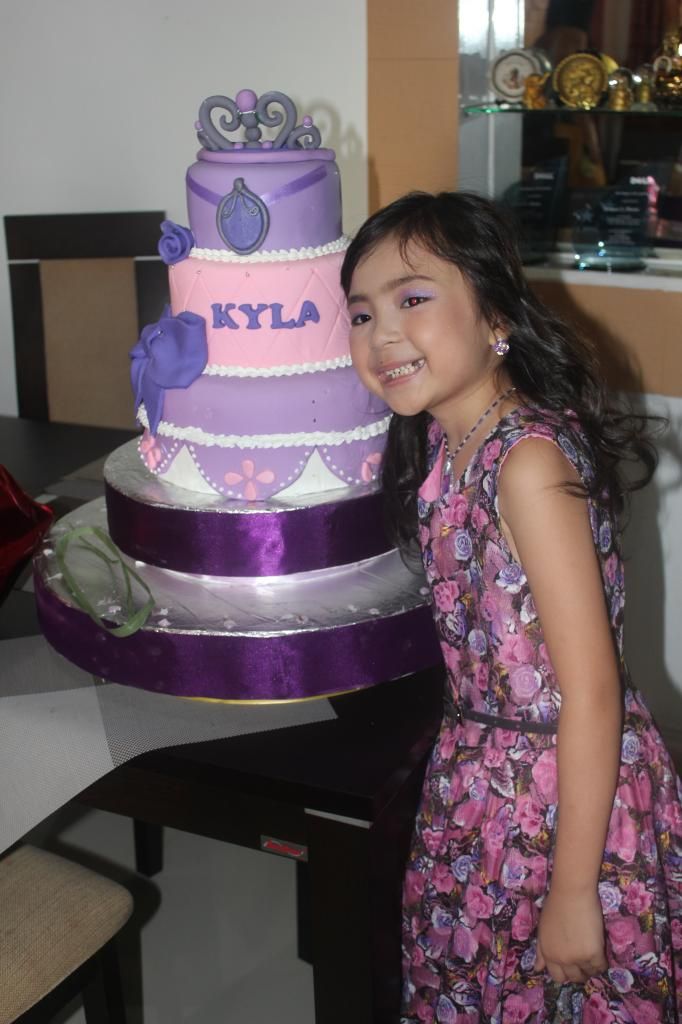 Your child's birthday is always going to be a special day that you want to celebrate. And what better way is there to honour your son or daughter than by coming up with a unique and fun birthday cake design that no one will ever forget?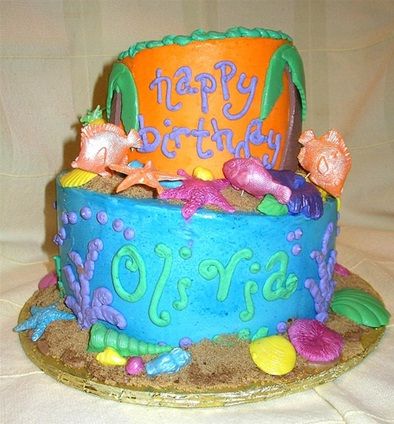 Photo by Amanda Leamons
Continue reading for tips on how to come up with a great kid's birthday cake design that everyone will enjoy looking at and then indulging in. Be sure to take plenty of pictures before making the first cut!
Think About the Season Your Kid's Birthday Falls Within
If you find yourself having trouble coming up with a birthday party theme and a design for your child's birthday cake, consider what season his or her birthday falls within. For a summer birthday bash, for example, especially if you're throwing a pool party, you can design a birthday cake in the shape of a large and colourful fish, complete with cupcakes with light blue frosting that can serve as the bubbles that come out of the fish's mouth. The creative use of a spatula can help you in achieving the texture of the scales on the fish.
Rainbow Layered Cake
Another fun design could be a rainbow layered cake. Using various food colourings, you can make separate layers for a large cake that can feed a crowd. While the exterior frosting can be one uniform colour with design accents of your choice, the real surprise will happen when you cut into the cake and you reveal a rainbow of colours separated by yummy frosting.
Castle Cakes for Princesses
Cakes can be made into just about any shape imaginable. If you're an excellent baker and you have experience in designing intricate cakes, you can make a castle cake on your own by assembling it into the shape of a castle, complete with frosted sugar cones that can serve as its turrets. But if you are worried about your ability to make the cake come out perfectly, it's best to leave this type of design up to the professionals who have a portfolio of large cakes in a variety of designs.
Use Cupcakes for a Pull-Apart Cake
Using colourful cupcakes, you can create a pull-apart cake that requires no cutting whatsoever. This takes a bit of strategy and patience, though, as you'll need to frost each individual cupcake and then piece them all together like a puzzle to create a cohesive design. Some bakers choose to keep things simple by setting up the cupcakes in the shape of the age of the birthday boy or girl, while others can create entire landscape designs or cartoon characters. Kids dig in by taking one cupcake at a time, allowing for perfect portion control.
When it comes to creating a birthday cake design for your child, have fun. And if you absolutely can't figure out how to bake an elaborate cake on your own, rest assured that there are plenty of professional bakers available who can make your design idea come to life.
My daughter's classmate had birthday celebration at school. It wasn't really a big celebration because no games, party or anything. The celebrant treated his classmates with McDonalds foods during snack time, then later on gave toy story and sponge bob goodies.
My daughter likes Toy story a lot so she was very happy seeing her new toy story stuff like toy story pouch, stickers and toy story notebook. Aside from all of these, she got also Sponge Bob school supplies like pencil case, pencils, eraser, sharpener, ruler and stickers. Thanks to his classmate who celebrated birthday at school and to all these goodies, I think kids are always excited to receive something just like these toy story and sponge bob goodies during birthday celebration.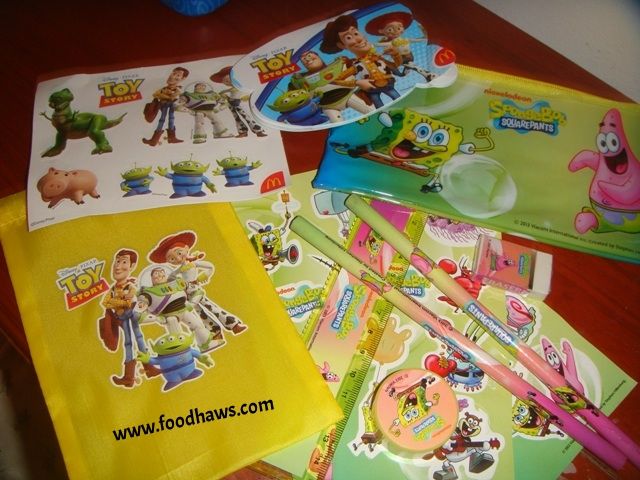 When I was young I used to put sock on the door every December 24. I believed Santa Claus is the one who put stuff in the sock so I always excited to see if my sock is filled with surprises during Christmas day. I can't remember when was the time I learned that there is no Santa at all but the one who put stuff in the sock is my mother, father or siblings.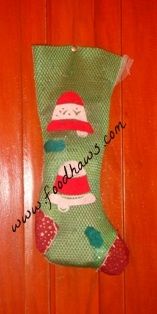 Now that I have daughter already I also practice this thing to her. So every 24th of December I'm always telling her to put sock and who knows Santa would come and put something in sock. She was excited just like me when I was young. She didn't know that Santa is me, heheh.
For this year, candies, cookies, trolli gummy, minion coin purse, sharpener with pen holder and another Barbie candy are what she got from Santa Mama.