Browsing Category: "Family"
My niece in Canada told me about Jenga. She said it was one of their favorite games to play. I went to the toy store and see if they have it. Yes, they selling it but i didn't buy because of the price. For me Php899 is a huge amount and I thought there are other important things to buy that I needed most.

My nephew here celebrated his  birthday and asked his sister to buy Jenga as his present. His sister granted and we got the chanced to play this game but not at all times unless we visit nephew's house.
Some info, Jenga is derived from swahili word meaning build. It is a physical and mental skill game. It was created by Leslie Scott, and currently marketed by Parker brothers, a division of Hasbro. To play this game, players take turns removing one block at a time from a tower constructed of 54 blocks. Each block removed is then placed on top of the tower, creating a progressively taller structure. The game ends when the tower falls, or if any piece falls from the tower other than the piece being knocked out to move to the top. The winner is the last person to successfully remove and place a block.
It's fun playing Jenga, and the nice thing about this game, you can play this game alone, with friends and your family. Everyone in the family can enjoy this exciting game but kid should be atleast 6 year-old because of the small parts.

Well, we have one now in the house,   I saw similar to jenga. And surprisingly the price was really cheap. If jenga is Php 899, this one  cost only Php88, cheap right?  Same with jenga, it composed of 54  pieces of wood blocks but unlike jenga with only one color,  the one I bought was colorful. It has a die which will decide what block you will stack or move. And same with traditional jenga, the game is to pull out a block without crashing the stack to win the game. Win by being the last player to remove a block without causing the block to crash.
Save
Save
Save
Save
Save
Just recently we received a package (balikbayan box) from my sister and her family in Canada. My daughter was so excited to receive this package because she was waiting for her surprise eggs. She received 24 Angry Bird Limited Edition Surprise Eggs. She also got 2 big surprise eggs and Barbie surprise eggs limited edition all these from Kinder surprise.
She already opened some of her angry bird eggs and happy with all the toys she got. From the two giant eggs, she got Queen Elsa. We wanted her sister Ana but didn't get it. Oh well,! s She has still more angry bird eggs to open and 3 Barbie surprise eggs. In every kinder joy surprise egg, you can find a toy and eat chocolate. My daughter loves getting the toy and not really into the chocolate.
This is Queen Elsa, I only captured this one but she has 2 Elsa. The other one is similar to the photo. She is really cute and stunning on her blue gown =). And she can stand on her own so this is really cute. Will try to open her Barbie surprise eggs in the coming days and hope we could get pretty Barbie stuff.
This picture was taken last July 5, 2015. The two boys are my nephews from Paris, France. And because it's summer in their place, they are here for short vacation together with their mom (my sister). It was my daughter's first bonding moment with these two boys and they chosen arcade place in one of the malls in our place. They really had fun because they got many tickets from the different arcade games they have played.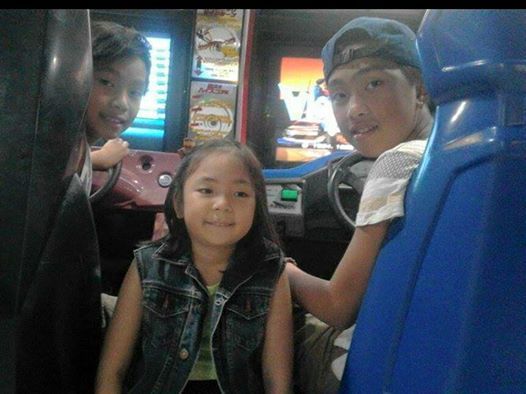 The last time the boys were here in the Philippines was 5 or 6 years ago, my daughter was a-year-old that time (if my memory is right). I'm glad my daughter easily gets along with her cousins. It's hard for her to connect with other people or kids especially if unfamiliar to her. It will take time for her to get along with someone. Another thing these two are boys and with the age gap but I'm glad it didn't become a problem. I'm blissful that she likes to play with them. They play every time these two are in the house (by the way they owned the house my daughter and I are staying). I hope they will be closed to each other and more bonding moments even her cousins will be staying here for only two months. They have similarity, can you spot it?
Yesterday was my father's 77th birthday. Sadly, he passed away 7 years ago so there's no way to celebrate his birthday. Instead, we went to his grave and sang happy birthday song. I wasn't ready when he passed away but years have passed and I already accepted that he wasn't here anymore. Anyway, I missed him and I just hope and pray that in time he will be with God. Oh well, if ever he is alive I think the best gift for his birthday could be bought at for taylor of old bond street products. The store has been manufacturing luxury grooming products for men since 1854. Products are made in England; they offer the finest shaving brushes & accessories, razors, deodorants, talcs, soaps, aftershaves and colognes.
This photo was taken when we visited Isdaan Floating Restaurant at Calauan, Laguna. I think it was my 4th or 5th time visiting the place. I must say their foods are pricey though it's not really that special. I mean their foods are just similar to other restaurant that I have been in our place. I guess, we always coming back because of the place itself. There are many beautiful scenery and statue of different people and animals that for sure you will be enjoying. It feels like you are somewhere in Thailand because of the different Buddha.
We find these miniature monkey statues sitting on a bench fun and attractive. I asked my daughter and her cousins to make a pose similar to the monkeys and here's the upshot. Daughter should close her mouth and cross her leg, heheh. The three are my nieces from Canada. They came in the Philippines for a short vacation. Yesterday they went back to Canada and called us this afternoon to inform of  safe arrival in their second home in  Calgary, Canada.
I was tagged by my sister on Facebook with this photo of my daughter and niece. Yesterday, we received a package box from my sister living in Paris, France for a long time already. Anyhow, after getting all the things inside the package box which includes foods, clothes, shoes, bags and so on, these two pretty girls went inside the box. My daughter is holding a gift that she also got in the package box. Daughter already opened the gift and she was surprised to receive a new Barbie doll. I will show it in my next post (hopefully). Anyway, I find their picture cute so I shared it here, heheh.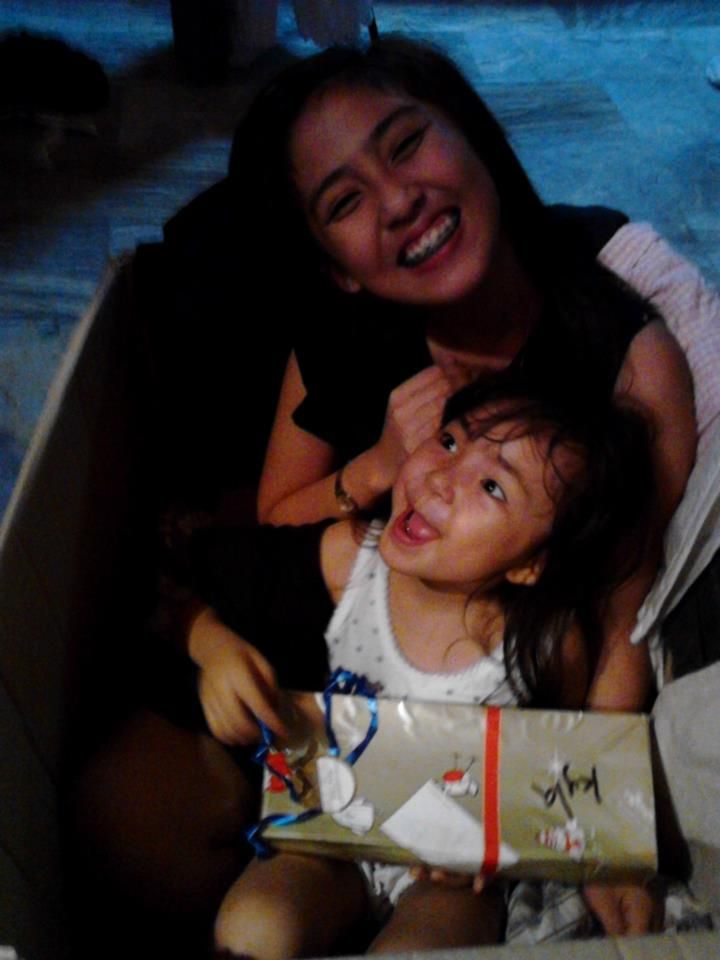 This is another photo of my daughter inside the box. She was playing earlier and then suddenly asked me if I could take a photo of her inside the box.  So here she is … inside a package box. If only this package box can send her in another country maybe I do so, lol.
When it comes to making a room baby friendly, we parents looks at everything around and carefully plans the essential stuff that would be used as well as those that might be hazardous for the little tots. The same should be applied when it comes to considering different furniture needs for your aging parents. As they grow older, we should be more attuned to their silent complains especially with the pain and discomfort that their bodies develop. More than aching arthritic or rheumatic bones and muscles, our parents may also experience incontinence or incontrollable urge to pee. A bedside lamp or commode can be a useful addition to their bedroom during these times.
These can be a sensitive issue to most aging parents because they hate to admit that they are having these problems. But simple adjustments and putting in fixtures that are designed for the bedroom can make their lives a little more convenient. Bedside commodes are especially designed to meet your aging parents' needs along with its safety frames and comfortable armrests to hold on to for sitting and standing. It cuts down nighttime trips to the toilet and lessens risks of accidents in dark hallways or stairs. Being aware of their littlest needs can help you protect your parents and lighten their burdens.
Parentgiving fully understands the issues that aging parents experiences and helps us cope by providing products that are made specially selected and made for the elderly. This one stop shop has a wide range of products from beddings and pillows to help ease back and sleeping issues, incontinence products, bath safety products, medical supplies and a lot more. You can check out their lists of bedside commodes made to meet your needs for your parent's bedroom.
If you are looking for something to give to your brother this holiday season I guess the right gift is the one he is always using or something related to his hobby or work. For instance he loves cigarette so give him his favorite cigarette. If he likes gadget then give him as long as in the budget. If his work is related to carpentry, welding and similar work then give him tools that he can be used like auto-adjust toggle clamps. Because for sure your brother will be very happy receiving present that he likes or something that can make his work easy.
Recently, my niece changed photo in her Facebook timeline. She puts our family photo that was taken before we send them in the airport. My niece, her mom, dad and siblings are living in Canada. And after 18 months of living away, my niece will come here to the Philippines to celebrate Christmas with us. It's only a short vacation; I think less than a month. We all missing them and we are happy because she has the chance to visit us even for a short time.
For 18 months that my niece is away from us, she always has stories to tell. She is always excited for winter and the snow because we don't have this thing in the country. In one of our phone conversations she told me that she is doing skiing. She also shares her photo while doing skiing but not the photo below. She is cute on her Ski Sweaters.
Anyway, were excited already for her visit. I wonder what she looks like now =)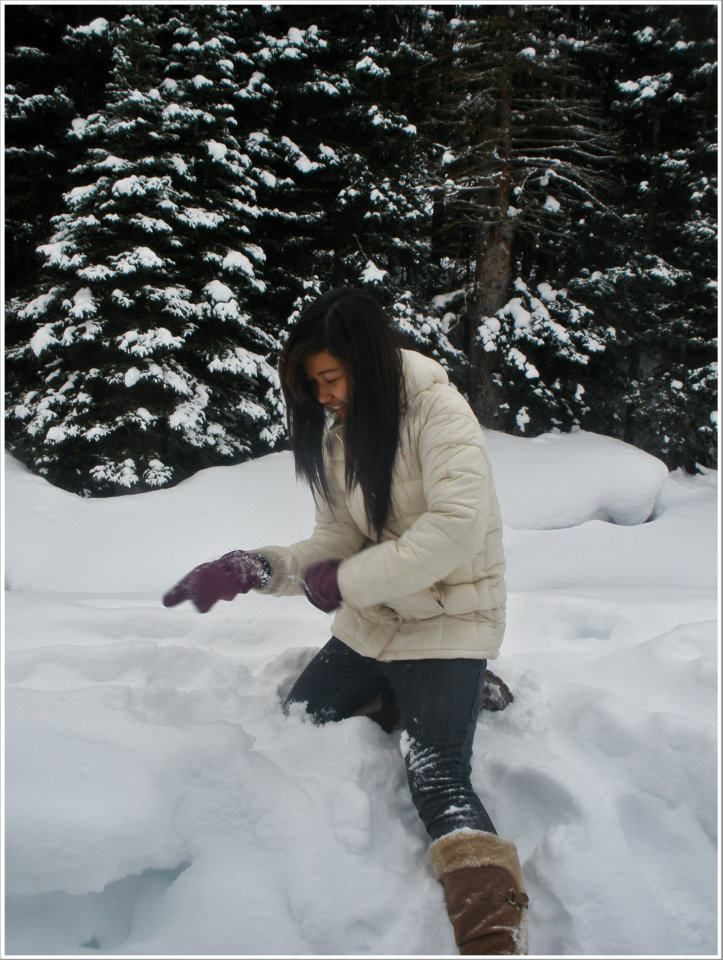 This photo was taken during their family getaway. My niece is really enjoying snow in this photo. 
When will I ever shout out load – its winter? Well, in other part of the world it's already winter but here in the country I belong, we never experience this kind of season. Anyway, couple of days ago I saw my niece posted on Facebook "it's snowing". Summer has just ended in their part and now it's already snowing in their place. For sure they need something to not feel the cold. I should tell my niece to look for north face jackets on sale for men online. She is looking for something that will be given to her father and brother for the coming Holiday season. I think jacket is a good present already and besides they need it because of the current season they have.