Browsing Category: "Parenting"
As I said in my previous blog, my daughter has many school works to do or project in different subject. This is new to us because we didn't make school project in Grade 1-3. Good thing we finished 5 and teachers already checked them. I help my daughter in her project because she can't do it alone. And parent is allowed to help as long as the parent is not the one who will make the whole project. Thankful she received good score in all projects she already submitted. Daughter said she has another project in Computer subject but they will do it in school. They just have to bring materials needed. I hope this is the last project for first quarter.
Their first quarterly exam will be next week. . So as early as today I already started making her reviewer. She doesn't have tutor ever since she started school. She doesn't like going to tutor after school so I don't push her. So I am the one helping her in all her lessons from the beginning. There are lessons I'm really clueless but through reading, I am able to teach her. We are learning at the same time  Anyway, we already started reviewing in advance so she will be prepared for their examination. Good luck to me hahah of course to my daughter. I hope she will get high score, perfect score is a bonus.
Microsoft paint is a simple computer graphics app included in all versions of Microsoft Windows. I read that this app will not be available in Windows 10, after 32 years of existence. I also read recently, that Microsoft confirms that MS paint is not killing off paint after outpouring support for this app. Paint will be available to download for free from the windows store.

My daughter likes to use MS Paint. She has many MS paint works saved in our laptop. This was her latest creation in this app. I find it cute and i feel like sharing it here. Look at the sun, tiny flower, tree with cute little birds and this hand stroking cat. Honestly, i don't know how to make this kind of stuff. So, i always praising my daughter every time she makes in MS Paint. I doubt if all the kids at her age can make beautiful work in MS Paint. Oh well, i hope MS paint will still be available because my daughter would be sad if this app will be gone.
From Grade 1-3, my daughter didn't do many projects in all her subjects. Now, that she's in Grade 4, project overload. Her school just started a month ago but we do lots of project already. We finished some and working on another project. Thanks goodness project are not hard and parent is allowed to help. This morning she submitted her P.E. project "Physical Activity Pyramid, it can be flat or 3D.
I was exhausted doing this project, tired because we made it just one day but honestly this pyramid wasn't hard at all. The problem was we finished it a day before submission but teacher mentioned it two weeks ago. Lesson learned do everything in advance.
I made similar pyramid just like in this site https://arts.onehowto.com/article/how-to-make-a-pyramid-out-of-cardboard-336.html.
I just covered the pyramid with different colors using construction paper. I did this to divide her physical activity, those in bottom should put her physical activity that are done regularly or always, next sometimes, seldom and never.
I hope she will get good grade although I made more effort than my daughter but she helped me in this project. She was responsible for cutting, pasting and finding letters in that magazine that we used in designing. Oh well, need to think what to do in her English project need to do this in advance so I won't feel tired again.
For others especially public school, school year 2017-2018 started already a month ago, but my daughter just started last week. She is now in Grade 4, how time flies.  New grade level only means, she has new classmates and some were old classmates. She only met her classroom adviser last week but daughter said some of her previous teachers will handle some of their subjects and new teachers as well.  She mentioned that her class adviser was kind and strict at the same time. And he was the youngest teacher in my daughter's school, i think only 21. Well, we will know him better on the first parent-teacher meeting that will be held very soon.

Daughter mentioned now that she is in fourth grade, they will be choosing three clubs; academic, religious and special interest. Her adviser told them not to choose club because their friends are there but choose the right one for them. I'm also telling this to my daughter and choose the club where she has an interest, that way she will be happy and improve more. I hope this school year will be great one for my daughter. There are many bright students in their section but we will do our best and teach her as much as i can. Now, that she is in grade 4, i hope she will express herself more and be confident at all times. Good luck for this school year, fighting!
SM Supermalls Shop and Make Art 2 was already finished. I thought my daughter wont be able to submit her artwork on time. On the last day of submission, I encouraged her to finish her entry, good thing she was able to finish everything and submitted before the cut-off time. We were able to bring her entry few minutes before the closing time. After a day i received calls but she can't hear me well. I was thinking who the caller was and never thought it was from SM representative when i called the number back. She informed me that my daughter's entry was chosen and will be receiving gift certificate prize.
We knew that all the entries will be displayed in the event center so my daughter and i went to SM store were we submitted her entry. So there we saw all the entries submitted but only 30 participants from Kid and 30 from Adult category were chosen to advanced to the next round which is also the final judging. Chosen entry has "congratulations". Daughter and I were very happy when we saw her entry with "congratulations". I'm so sorry i can't share her entry. I used to upload images from photobucket and put it here but i cant do it now. I think they are not free already.
Anyway, we were advised to visit Admin office and we hurriedly went since we were already in the mall. My daughter received Php 500 gift certificate as her prize for advancing the final judging. The truth is win or lose it doesn't matter, I just wanted my daughter to boost confidence and joining this contest is one way. The final judging will be held in SM City Lipa but before bringing to SM Lipa all entries will be displayed here in SM City Lucena for few more days. When the final judging comes, win or lose we will accept it wholeheartedly. And the fact that her entry was chosen to advance in the final judging and displayed here in SM City Lucena and soon to SM City Lipa until the final judging, already a big achievement.
I hope next year SM Supermalls  will be doing this contest again. We just used crayons and poster painting but next time will do other ideas to enhance her artwork. Congrats my dearest daughter, believe in yourself always. You can do it, fighting!
SM's Shop and Make Art 2 contest is fun and exciting activity this summer. The contest is open to all
shoppers ages 12 below for the Kids category and 13 above for the Adult category. Just simply present Php 1,000 single receipt purchase for the Kid category and Php 2,000 for the Adult category from any of the stores at SM City Lucena to join the contest. Contest in on going from March 15- June 15, 2017.
I let my daughter join this contest because I wanted her to have confidence especially in everything she does. I thought the contest is on the spot like you will be given a piece of paper and color it but not. Instead, we took home the drawing and my daughter needs to color it and submit to SM before the judging date.
My daughter  participating this contest willingly and I didn't force her makes me happy already. She is not professional on this field but i believe everything starts from little.
Save
Enjoying the pool is now possible right in your own backyard. My daughter was very happy because i bought her inflatable swimming pool. She was asking me to buy one since last year summer but I didn't buy her. So, yesterday when we went to the mall, i can't say no to her and bought inflatable pool.  She was very excited and began to inflate when we got home. We used manual pump at first and neighbor let us borrowed their electric pump. After installing we filled water up to the warning line marked. I told my daughter to use the pool tomorrow morning because we finished installing and filling water past 5 in the afternoon already. She said okay but after few minutes, she changed her mind and asked me if it is okay to use it. She really wanted to swim and last Sunday (Easter) almost everyone was enjoying the pool because of Easter but we just stayed at home. Thinking of this, i let her use the pool. She was really happy even swimming alone. Of course I took photos here are some.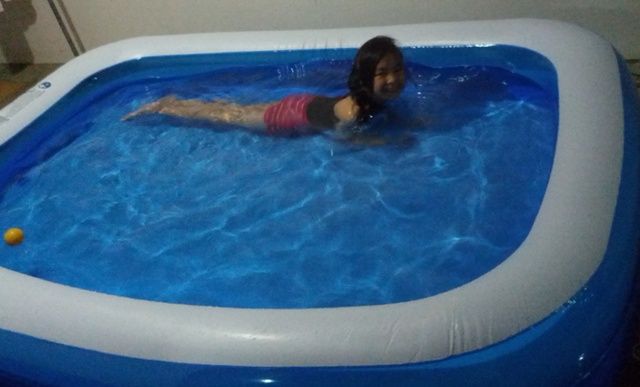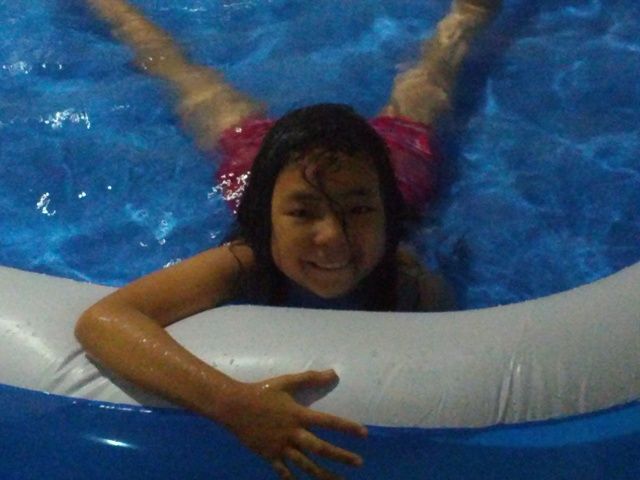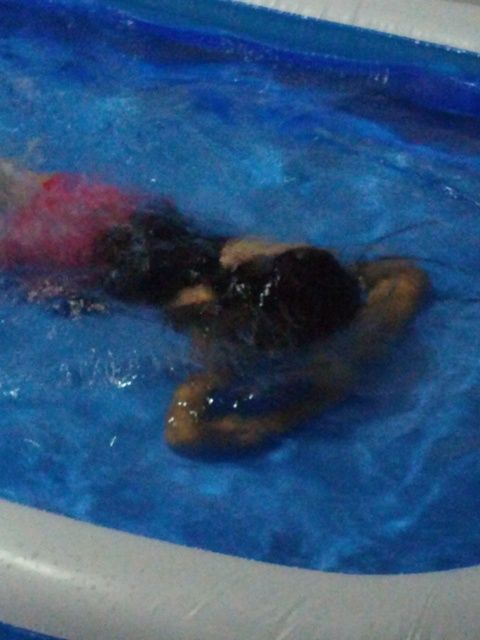 It is official PAGASA (Philippine Atmospheric, Geophysical and Astronomical Services Administration) declared summer season here in the Philippines. It only means vacation time especially for the kids. Many parents choose to enroll their children in summer class to make summer vacation more productive. I want my daughter to learn swimming because the first time I enrolled her in swimming lesson she didn't enjoy the lesson. She was young that time so I think it is normal. Now, that she is 9 already this is the right time to attend this lesson. If I have extra money, I wanted to enroll her in ukulele tutorials. We have available instrument in the abode but because she doesn't know how to use it she rarely hold it. How about your kids? Do you like enrolling them in summer class? By the way, if you like to enroll them in guitar tutorials and still don't have the instrument, I think prs guitar at guitarcenter.com could be a good option.
Last night we experienced intensity 3 earthquake. We were thankful because nothing happened to us. Magnitude 5.5 earthquake hit the epicenter in Batangas and caused damage in churches and commercial establishments. I believed in our place though we experienced intensity 3 nothing damages occurred.
My daughter and I were on the bed, she was playing her gadget while I was watching Kdrama. Suddenly, we both heard sound from the glass window and the bed was also moving a bit. We looked at each other while I'm telling to her that there is "lindol" (earthquake). My daughter was frightened and handed to me her gadget. She even asked her grandmother to sleep with us. I even heard her "Mama magdadasal  ako" (mama, I will pray). Well, she prays before sleeping but I surprised to hear that words from her. So this was my daughter's first earthquake experience and I hope it won't happen again.
I heard in the news that there are many aftershocks happened but I don't think we have here. In our place the tremor happened very fast, I think 20 seconds or less. Well, this kind of disaster happened unexpectedly so we should always be very careful at all times. We should be ready at all times so when time comes we are prepared. We should not be panicked and present of mind is really important at this time.
Can't believe my daughter already finished grade 3, time flies indeed. After stressful examination last week, she can finally enjoy her
school vacation. I know it is not right but most of the time she is using gadgets. She is enjoying coloring and painting also but still most of her time devoted to playing online. I should think of something fruitful to make her summer vacation enjoyable and memorable. By the way, we bought headphone because she likes listening to music unfortunately it didn't last that long. I read about beyerdynamic dt 770 at guitarcenter.com, check it out http://www.guitarcenter.com/Beyerdynamic/DT-770-PRO-Closed-Studio-Headphones-250-Ohms-1273887990757.gc, I think this headphone is better compared to the one we bought. Based on the description this one has an exceptional quality at exceptional price. This tool is excellent monitoring headphones for recording studios, post production, or broadcasting situations.