Browsing Category: "Parenting"
SM's Shop and Make Art 2 contest is fun and exciting activity this summer. The contest is open to all
shoppers ages 12 below for the Kids category and 13 above for the Adult category. Just simply present Php 1,000 single receipt purchase for the Kid category and Php 2,000 for the Adult category from any of the stores at SM City Lucena to join the contest. Contest in on going from March 15- June 15, 2017.
I let my daughter join this contest because I wanted her to have confidence especially in everything she does. I thought the contest is on the spot like you will be given a piece of paper and color it but not. Instead, we took home the drawing and my daughter needs to color it and submit to SM before the judging date.
My daughter  participating this contest willingly and I didn't force her makes me happy already. She is not professional on this field but i believe everything starts from little.
Save
Enjoying the pool is now possible right in your own backyard. My daughter was very happy because i bought her inflatable swimming pool. She was asking me to buy one since last year summer but I didn't buy her. So, yesterday when we went to the mall, i can't say no to her and bought inflatable pool.  She was very excited and began to inflate when we got home. We used manual pump at first and neighbor let us borrowed their electric pump. After installing we filled water up to the warning line marked. I told my daughter to use the pool tomorrow morning because we finished installing and filling water past 5 in the afternoon already. She said okay but after few minutes, she changed her mind and asked me if it is okay to use it. She really wanted to swim and last Sunday (Easter) almost everyone was enjoying the pool because of Easter but we just stayed at home. Thinking of this, i let her use the pool. She was really happy even swimming alone. Of course I took photos here are some.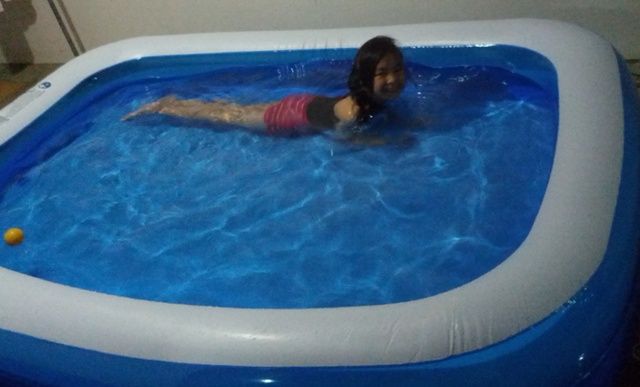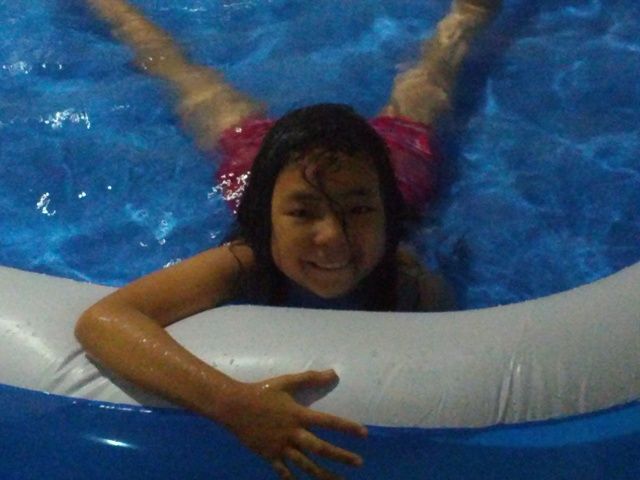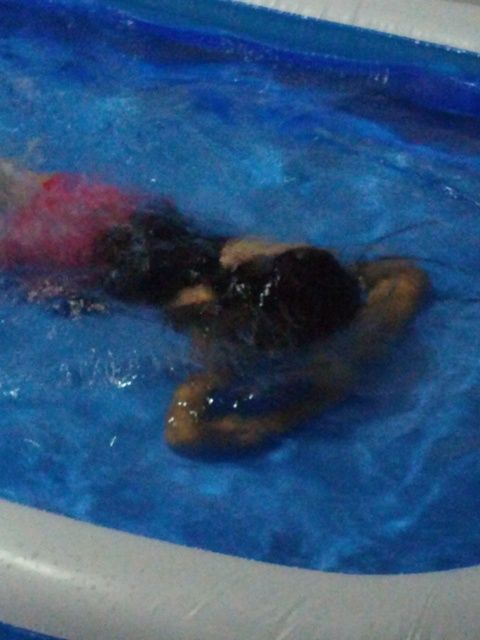 It is official PAGASA (Philippine Atmospheric, Geophysical and Astronomical Services Administration) declared summer season here in the Philippines. It only means vacation time especially for the kids. Many parents choose to enroll their children in summer class to make summer vacation more productive. I want my daughter to learn swimming because the first time I enrolled her in swimming lesson she didn't enjoy the lesson. She was young that time so I think it is normal. Now, that she is 9 already this is the right time to attend this lesson. If I have extra money, I wanted to enroll her in ukulele tutorials. We have available instrument in the abode but because she doesn't know how to use it she rarely hold it. How about your kids? Do you like enrolling them in summer class? By the way, if you like to enroll them in guitar tutorials and still don't have the instrument, I think prs guitar at guitarcenter.com could be a good option.
Last night we experienced intensity 3 earthquake. We were thankful because nothing happened to us. Magnitude 5.5 earthquake hit the epicenter in Batangas and caused damage in churches and commercial establishments. I believed in our place though we experienced intensity 3 nothing damages occurred.
My daughter and I were on the bed, she was playing her gadget while I was watching Kdrama. Suddenly, we both heard sound from the glass window and the bed was also moving a bit. We looked at each other while I'm telling to her that there is "lindol" (earthquake). My daughter was frightened and handed to me her gadget. She even asked her grandmother to sleep with us. I even heard her "Mama magdadasal  ako" (mama, I will pray). Well, she prays before sleeping but I surprised to hear that words from her. So this was my daughter's first earthquake experience and I hope it won't happen again.
I heard in the news that there are many aftershocks happened but I don't think we have here. In our place the tremor happened very fast, I think 20 seconds or less. Well, this kind of disaster happened unexpectedly so we should always be very careful at all times. We should be ready at all times so when time comes we are prepared. We should not be panicked and present of mind is really important at this time.
Can't believe my daughter already finished grade 3, time flies indeed. After stressful examination last week, she can finally enjoy her
school vacation. I know it is not right but most of the time she is using gadgets. She is enjoying coloring and painting also but still most of her time devoted to playing online. I should think of something fruitful to make her summer vacation enjoyable and memorable. By the way, we bought headphone because she likes listening to music unfortunately it didn't last that long. I read about beyerdynamic dt 770 at guitarcenter.com, check it out http://www.guitarcenter.com/Beyerdynamic/DT-770-PRO-Closed-Studio-Headphones-250-Ohms-1273887990757.gc, I think this headphone is better compared to the one we bought. Based on the description this one has an exceptional quality at exceptional price. This tool is excellent monitoring headphones for recording studios, post production, or broadcasting situations.
Hello my tooth fairy. This was last minute book parade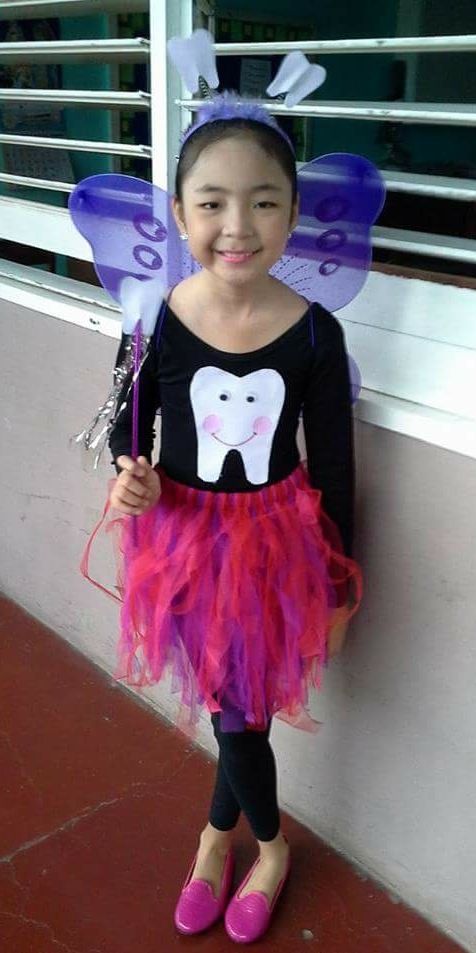 costume of my daughter. I thought she will be using her old Sofia the First gown. It was the gown she wore during her 7th birthday.  The gown still fits on her but because two years had passed, I need to adjust the length. She didn't like to wear it so i need to think of another book parade costume. 
It wasn't compulsory for the grade 3 students but i decided to let her joined the event.  I searched easy costume and what i saw was tooth fairy costume. I find it easy so i chose this costume for her.
For the costume, she needs black leggings, black leotard, tutu and wings. She already has black leggings and tutu, so i bought black leotard only. I just fix the tutu because it was used long time ago already. I put tooth on her leotard using white felt paper. I added happy face with google eyes. Gladly, there was cheap fairy wings available. This wings already included headband and wand. I made a little changes by changing butterfly design into tooth on the wand and also to the headband. I matched her costume with pink flat shoes to match on her tutu. My effort on doing this has paid off because she liked it.
My daughter is no longer a baby. She just turned 9 last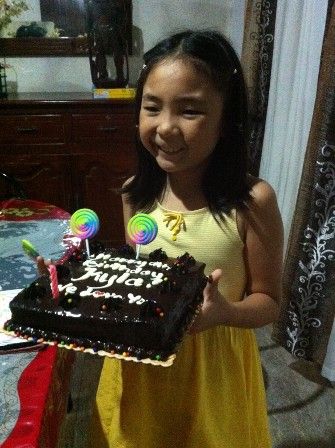 November 10. Time flies … if there is a chance to turn back time, I would love to. I feel there were many things we didn't do for the last years. Unfortunately, what I'm thinking is impossible to happen so have to move forward and see what this year would offer for my daughter. Hope she will do many new things. Hope things that we didn't do for the last 8 years will happen this year and the coming years. Above all, I pray that God will continue to bless and guide her while growing up.
Anyway, I didn't prepare for a huge celebration. We just had dinner in the house. I cooked tuna carbona. I learned this simple pasta food from my sister and it turned out luscious. I roasted turkey in the oven, thanks to my brother for the turkey. He is raising 6 turkeys and we need to roast one for this day. So sad for this turkey but we enjoyed eating it. For my daughter to feel her 9th birthday, I bought cake in Red Ribbon. Happy birthday to you my dearest Kyla. Sorry if you can't get everything but I'm glad you understand the situation.

Kyla loves to drink Milo. Good to know there is ready-to-drink available in the market. I saw their promo of free champ cooler when you buy 4pcs Milo ready-to-drink. I grabbed it. I mentioned before that I do love getting freebies. Not all the time but if we have budget, she is bringing ready-to-drink Milo in school with this champ. I believe this cooler could make her Milo stay cold. By the way, she is using this champ cooler with her yakult as well.
Ooops, I need to search online about woodwind and brasswind instruments a friend of mine is asking a favor if I could find information on these two instruments. She is making a report on this stuff.
Save
Save
Last week i went to my daughter's school to get her first grading report card. I was happy with her grades although she wasn't included in top 9. She got 84 in Reading. It's a rule in her school that below 85 will not be included in the top list. So I'm a little disappointed Anyway, but still grateful that in other 9 subjects she was included in the top students. Let me share to you, she was Top 2 in Christian Living and computer, Top 3 in English, Mathematics and MAPEH (Music, Arts, Physical Education and Health), Top 4 in Sibika, Top 5 in Mother Tongue and Science, lastly she was top 6 in Filipino. She was achievers in all her subjects except in Reading.
Overall I was happy with her grades but we need to make extra effort for her to be included in the top list. By the way her adviser told me she was number 9 in her class (out of 35) if based in average but as I said those with grades below 85 will not be included in list. So we are hoping next report card she won't get 85 below for her to get spot. Oh well, good job kyla, just enjoy your school… no pressure!
My daughter asked me to make clay dough. This wasn't the first time because we made one last summer. Since there was no school last Tuesday we made our own clay dough. By the way, I just followed tutorials on youtube. You can choose to cook your dough or not at all. I read that cooked dough has a better texture than uncooked varieties. And you need to use cream of tartar, it helps to make your dough more elastic.
What I made was no cooking and just mixing the ingredients. If you have flour, salt, water, oil and food color, you are good to go. I just mixed everything and formed dough. I was happy to have clay dough without buying. It is expensive to buy clay dough so as much as possible we make our own dough. It is messy doing this thing but it is fulfilling when you see your daughter's happiness.
Daughter made this character from Peppa Pig. She put it on her huge egg. She wanted to cover it all with clay dough but I think this one looks good already.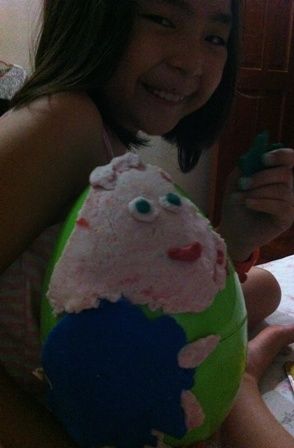 She made Sponge Bob as well but she was lacking of yellow dough so it didn't turns the same as Sponge Bob.
Anyway, it has been 4 days since I made her clay dough/playdough and surprisingly the dough was still soft. Next time, I will make again but will cook it. I have to see which one is better.