Browsing Category: "School Time"
Hello my tooth fairy. This was last minute book parade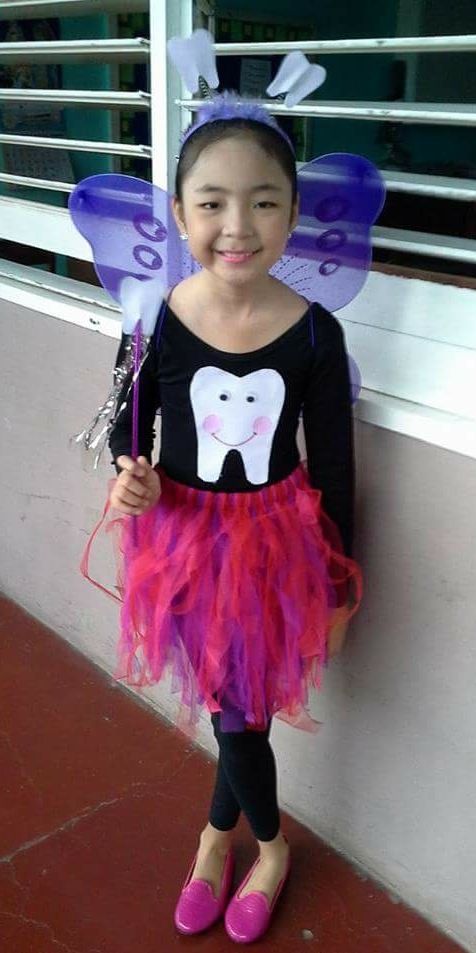 costume of my daughter. I thought she will be using her old Sofia the First gown. It was the gown she wore during her 7th birthday.  The gown still fits on her but because two years had passed, I need to adjust the length. She didn't like to wear it so i need to think of another book parade costume. 
It wasn't compulsory for the grade 3 students but i decided to let her joined the event.  I searched easy costume and what i saw was tooth fairy costume. I find it easy so i chose this costume for her.
For the costume, she needs black leggings, black leotard, tutu and wings. She already has black leggings and tutu, so i bought black leotard only. I just fix the tutu because it was used long time ago already. I put tooth on her leotard using white felt paper. I added happy face with google eyes. Gladly, there was cheap fairy wings available. This wings already included headband and wand. I made a little changes by changing butterfly design into tooth on the wand and also to the headband. I matched her costume with pink flat shoes to match on her tutu. My effort on doing this has paid off because she liked it.
The school of my daughter celebrates the National Book Week and Literacy Week. This is to develop student's love for reading through the activities for the said event. One of the activities done was story-telling activities in their child's class.
I was asked by my daughter's teacher to do this storytelling in their classroom. At first I was hesitant but of course I did accept the activity. This morning I already did the storytelling activity. I read the story of Pinocchio to my daughter's class and I was glad because they were listening though in the middle of the story one kid started to talk while I'm reading and keep on saying the story is like Honesto. The latter is a new show on ABS-CBN. I don't watch the show but I know that the story of Honesto is like Pinocchio wherein his nose becomes big everytime he's lying.
Google Photo
Well, I'm glad I finished the storytelling already. After I read the story, I asked couple of questions and they participated though some students were shy.I can't say I'm a good reader but still happy because I was able to give joy to the children even in short time.
After the storytelling, I gave some kind of reward to my daughter and the rest of her classmates for being good while I was with them.
Another late post. Last month my daughter's school had Science week celebration. Different activities happened like film viewing, Science Quiz Bee, Recycling and Pet Parade. For film viewing, my daughter said they went to AVR room to watch parts of the body.
She participated in Science Quiz Bee together with her classmates and other prep students in another section. Unfortunately, she didn't make it this time. I was unhappy when I saw the result of the competition because we did our best to review everything included in the quiz bee. Her teacher said, my daughter was slow to answer the questions given unlike during the previous quiz bee she participated. Anyhow, that is life, sometimes you win, sometimes you lose. I'm still proud of my daughter because she was chosen to participate in this activity.
Recycling, for this one, they did paperweight activity. Teacher asked them to bring small bottle and any small toy. My daughter brought this empty lady's choice bottle and little hello kitty. After school, they already finished the activity and this is her work, of course, with the helped of their teacher.
The last activity was pet parade. They asked to bring any pet and my daughter brought gold-fish again. Here's one of her pictures during pet parade. My daughter enjoyed all the activities during Science Week especially pet parade.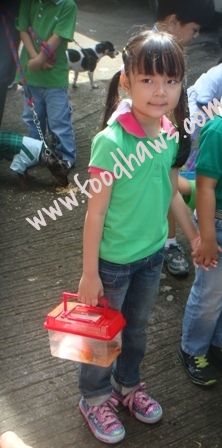 The whole month of August is a celebration for Buwan ng Wika (National Language Month). For sure students especially my daughter is excited for this month as well as me. My daughter's school celebrates Filipiniana Culminating Activity during Buwan ng Wika. Everyone from the Nursery to High School level shows different cultures, dances, and national costumes of the Philippines from Luzon, Visayas and Mindanao. Normally after the program, Barrio Fiesta will come next. Here all the students, parents, teachers, guardians, and everyone in the school are eating together with popular Filipino foods in their respective rooms.

Well, before I get too much excited for the said celebration, first quarterly examination will come first. Tomorrow, they will have examination in Computer and next week all the major subjects. Were done reviewing her Computer subject but we will read her book again before we sleep so she's ready for tomorrow's exam. We will start the review for all the major subjects this weekend or maybe this Friday. It's a national holiday because of end of Ramadan so maybe we will review one her subjects this day. Good luck to us =)

Today is my daughter first day as a Prep or called Kinder 2 in other schools.  This is the last level of being a preschool. I'm happy because she didn't have any tantrums on first day unlike when she was in Nursery and Kinder. I talked to her few days ago and convinced her not to cry in school because she's a big girl already and I'm glad she made it today.

I woke her at around 6.30am, daughter school time is 8am-11am. She immediately gets out of bed. It's a good sign that she's ready to go to school. Too bad it's been raining since yesterday night, this is my worry always. We don't own a car and rides only in public vehicle so it's really hard every time it's raining. Another thing we need to walk outside the subdivision for 5 minutes (I think). Good thing she has raincoat, having a raincoat is really helpful. When we are near to her school the rain stops for a while.

Anyway, since its first day today, parents and guardians are still allowed to roam in the campus and outside their room. Though the room is close we still see the kids inside the room because there is little mirror in the door that you can see what's going on inside the room. I check from time to time to see if my daughter is doing well or participating in any of the activities, thankful because she participates in everything they are doing.

Three hours is really fast, I heard her teacher saying goodbye already. I forgot to take a photo but she wore sunglasses made of paper when she gets out the room. She said teacher made it and they just colored. Photo below is the sunglasses they colored earlier in school. Well, good job Kyla and good luck still a long way to go but you can do it. Mama is here to help you, I love you so much!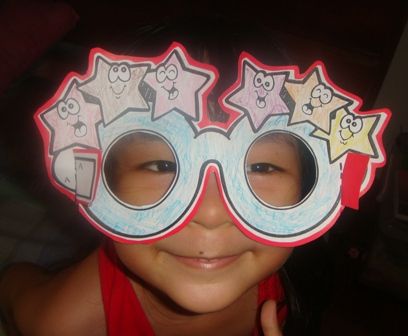 I am a proud mama! Today, we attended my daughter's Recognition Day. I remembered her first week in school she's been crying a lot. Thankfully on her second week she already adapted her new environment. And now after 10 months here she is attending her Recognition Day. Anyway, the program lasted for almost one hour. I was surprised to see my daughter – Kyla with three of her classmates performing "Make me a servant" through Doxology, a sung expression of praise to God.
Another thing that made me surprised and proud on her Recognition Day was her awards received. Each student was called to get their certificate. Certificate indicates they completed Nursery level. When my daughter was called, teacher gave her award which is Best in Analytical Thinking and then mentioned that she participated in Math Quiz Bee and won 2nd placer during Math Week. I thought that's all but later on they gave special awards and my daughter was one of the recipients. She received also Academic Excellence (for exhibiting exemplary performance in all Academic areas, wow!
I think this is the best thing that our kids will give back to us. We can provide them their needs, necessities, education and everything. And the thing that parent could ask for is their children to study well. Anyway, I am a proud mama … this is just the beginning and as long as I am here I will continue supporting her especially on her education.
Next week is the 15th Foundation of my daughter's school. There are many activities line up but I still don't have the copy. But last week when I attended Parent-Teacher Conferences, teacher mentioned some of the activities like baking (I'm not sure about this thing because they are only in Nursery), Splash day, fun run, family day, acrobatic show and more. Kyla is excited to participate in splash day but she has runny nose these past few days. But hoping next week she's fine so she can take part.
How time flies, its February already. I remember the first time she attended school last June. For four days she's been crying a lot. I thought it will last more than that but on her fifth day no more tears already. Now, she's attending school for more than eight months. She always wants to go to school. Sometimes I teased her to get absent but she is always eager to attend her class.
Today I attended Parent–Teacher Conference or PTC. Each parent/guardian can talk to teacher for just ten minutes. It's really a short time to tackle your child achievements or problems in school.  But that is the rule in the school so we need to abide. Anyway, while talking to teacher she said Kyla was already improving in terms of confidence. The last time we had PTC she said that Kyla is lacking of confidence. Her teacher said before every time she answered wrong one she will just sit and doesn't try to give another answer. But teacher said lately even though Kyla answered wrong she will continue on giving answers. She is interacting in discussion and playing with her classmates.
Another thing we talked about is the result of her third quarter examination. They had two-part examination one last December and second part this January. I was surprised because there are 160 total number of examination for 4 subjects (Reading, Language, Science, and Math). She got 125, kinda disappointed but her teacher said many of her classmates got lower score because Third Quarterly was hard already. Most of her wrong answers came from Reading subject. For example she needs to complete the alphabet by providing the missing letter but I noticed she didn't finish her work. As a result she just got few correct answers. Well, I'm still happy for her because I know her score is fine. Teacher, let me see Kyla's report card its improving because she got numerous Outstanding grade this time. Good job Kyla. 
As I said last time DPS Astronomical Center will visit Kyla's school. So last Friday, Kyla  experienced Sky Xplorer. Preschool students where the first to witness Sky Xplorer, I have no idea what's going on inside the booth because I myself haven't experienced this thing. I heard outside, children shouting, laughing and singing twinkle twinkle inside the booth. It last for thirty minutes, then after they proceed to another room where they listened to some simple talks about moon, sun and stars. After this they went to audio visual room for film viewing.
Anyway, I have the chance to experience Sky Xplorer for free. I and another mom from kindergarten asked the personnel if we can see what's going on inside the booth and surprisingly they granted. 
Inside the booth, I felt dizzy and wanted to go out but I said to myself this is once in a lifetime experience, gladly dizziness went away after few minutes. Anyway, inside we experienced to see the different planets, sun, moon and other heavenly bodies. I don't heard the lecturer voice much because of the Grade 3 students who kept on shouting woooow everytime something will appear. Anyhow, my thirty minutes experienced seeing the moon, sun, planets and other heavenly bodies was amazing. It looks like they are real, hope to experience it again with Kyla. 
Kyla's Third Quarter Assessment – Part 2 will be next week. Teacher sent pointers for review already. As always there are many things to review in her Reading, Language, Math and Science subjects. I was surprised that simple addition (sum of 5 or less) is included already in pointers knowing they are only in Nursery. Anyhow, it's better because at their early age they can be familiar in addition concept. 
I hope Kyla will participate in our review. The last two quarters she got good scores in all her subjects. I hope she will get the same scores or make it better. I don't know where to start, what subject to review first, hahah … it's really a long pointers. Well, maybe I should focus on the difficult one and later on lessons that she already familiar. 
Anyway before this examination take place, I received letter from her teacher that Sky Xplorer will come to their school this coming Friday. It is presented by the DPS Astronomical Center. The exhibit is endorsed by DepEd, which aims to promote astronomy awareness and help Filipinos rediscover their place in the Universe. Sky Xplorer is the best science education road show in the country that focuses on Astronomy. Students will have the opportunity to see the universe – the sun, stars and other heavenly bodies.  This will cost Php 300 per person. I hope Kyla will enjoy this exhibit.