My daughter is no longer a baby. She just turned 9 last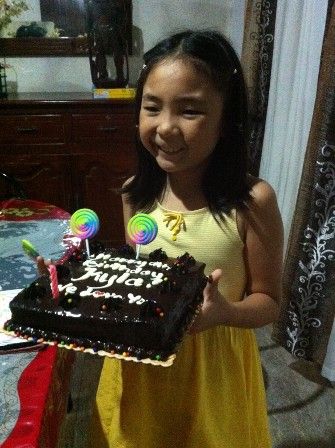 November 10. Time flies … if there is a chance to turn back time, I would love to. I feel there were many things we didn't do for the last years. Unfortunately, what I'm thinking is impossible to happen so have to move forward and see what this year would offer for my daughter. Hope she will do many new things. Hope things that we didn't do for the last 8 years will happen this year and the coming years. Above all, I pray that God will continue to bless and guide her while growing up.
Anyway, I didn't prepare for a huge celebration. We just had dinner in the house. I cooked tuna carbona. I learned this simple pasta food from my sister and it turned out luscious. I roasted turkey in the oven, thanks to my brother for the turkey. He is raising 6 turkeys and we need to roast one for this day. So sad for this turkey but we enjoyed eating it. For my daughter to feel her 9th birthday, I bought cake in Red Ribbon. Happy birthday to you my dearest Kyla. Sorry if you can't get everything but I'm glad you understand the situation.